Postpartum Shapewear – Discover the Quickest Way to Get Back into Your Pre-Pregnancy Clothes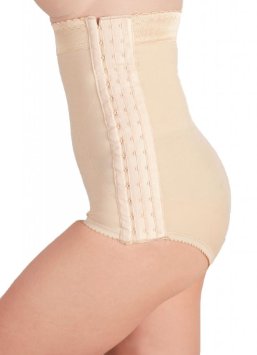 Childbirth is a wonderful experience. It, however, leaves many women around the world constantly worried about a singular problem – the bloated belly. For most of them, getting back into their pre-pregnancy clothes is a major concern. Thanks to postpartum shapewear, mothers of newborn can now look slimmer and fit immediately after childbirth. They can also recover from childbirth more quickly and easily.
How postpartum shapewear works
Postpartum or maternity shapewear garments, as they are called, function by the principle of abdominal compression. They are composed of layers and panels that offer mild compression to the postpartum belly, helping it regain its pre-pregnancy shape and size faster. Depending on the type and design, the garments target specific areas such as the abdomen, hip, buttocks, back, and parts of the upper torso.
Postpartum compression garments are made from natural and synthetic materials like cotton, nylon, elastane etc. They meet medical grade standards and are tested for performance, making them absolutely safe to use after childbirth. Some maternity shape wear garments are designed for use after natural childbirth, while some others are for use after C-section. The latter factors in the need for incision healing and better support after the procedure, and hence are designed accordingly.
Different kinds of maternity shape wear
Belly bands are probably the most frequently used postpartum shape wear. The garment is designed to be wrap – around, and covers the abdomen, hip, back, and lower rib. Belly bands can be used after natural childbirth as well as a caesarean section. However, they are more suited for the former, and are best used after a few weeks of delivery in case of C-section.
This class of maternity garment is just as popular as belly bands, but most often used by women who undergo a C- section. The postpartum C-section girdle offer better support and compression, and hence are more appropriate for use after the procedure. Within girdles, there are many designs like pull up, girdle with zipper, corset, double corset etc. These designs offer the same degree of compression and vary only in their type of closure and adjustability. Corsets and double corsets usually include an extra row of adjustable hooks which help in controlling compression and correcting it when progress is made.
Compression tanks are very similar to regular tank tops and differ only in their functionality. Those designed for use after delivery offer support for the entire upper body, giving the torso a firm and toned look. They cover the lower tummy, side handles, back bulge, and upper body through specially targeted compression sections. They also feature clasp strap closures for easy nursing access and are comfortable to use throughout the day. These garments are ideal for layering and are helpful in reducing bloating after childbirth.
Postpartum panties are simple and effective maternity shape wear garments that cover the abdomen, hip, lower back, and buttocks. They are comparatively easier to wear and feature a seamless and high – rise design that provides a light compression to the frontal lower abdomen and oblique areas. Postpartum panties are designed to be used during day and night time alike, and can be worn by themselves or in combination with a girdle or belly band.
Compression thongs are designed for those new moms who hate panty lines that show through their outer garments. This type of shape wear is manufactured using the same inner support material as girdles and corsets, and hence offers the same degree of compression and support in the abdominal area. They are designed to be pull – on, and hence lack closures; making them easy to wear and move around in.
For best results, it is important to use postpartum garments immediately after delivery and up to the prescribed time, in a meticulous manner. When selecting them it is also important to know which of them are suited for use after natural delivery, and which are for use after C-section. Some garments like panties, are designed for use throughout the day, while some others like corsets need to be worn with breaks in between, lest health concerns develop.
When buying postpartum shape wear, it is crucial to ensure proper fit so that the compression and support offered are neither excessive nor too less. Before beginning use, it is also preferable to seek advice from the consulting doctor on any complication or existent health issue that may aggravate with the use of postpartum shape wear.