How to Get Back Your Pre-Pregnancy Shape with Postpartum Shapewear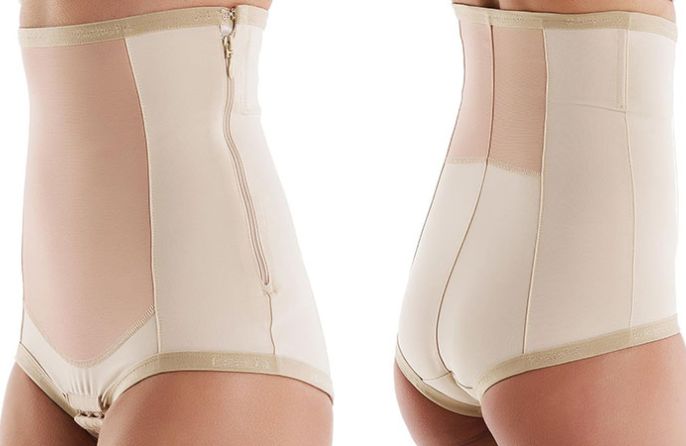 Postpartum shape wear is now the new rage among women who have given birth to a child recently. These garments offer abdominal compression that helps new mothers regain their pre-pregnancy shape with ease. They are recommended by healthcare experts worldwide, and perform the dual role of lingerie and medical garments by offering support to the post – baby uterus and belly.
Types of Postpartum Shape Wear
Postpartum shape wear includes medical grade garments that can be used by both, women who have had a normal delivery, and those who have undergone a C – section. All of them perform the basic function of offering compression, but differ in their design and the extent of support offered, or the area covered.
•  Compression tank – these garments offer support to the entire upper body. The garment has a special design that offers compression to the post-baby tummy through targeted sections that cover the low tummy, side handles, back bulge, and upper body. They often feature clasp strap closures for easy nursing access and are comfortable to use throughout the day. Compression tanks can be used for layering and is helpful in reducing bloating after childbirth.
•  Postpartum panty – panties are the easiest to wear among maternity shape wear and feature seamless and high – rise design that provides a light compression to the frontal lower abdomen and oblique areas. Appropriate for use during day and night time, the panty can be used by itself or in combination with postpartum girdle or corset.
•  Compression thong – these are a modified version of the postpartum panty, for women who dislike panty lines when getting dressed up for an occasion. They are usually manufactured using the same inner support material as the girdles and corsets, and hence offer the same degree of compression and support in the abdominal area. The pull – on design, which lacks closures, makes them easy to wear and move around in.
•  Postpartum girdles and corsets – this class of maternity shape wear offers the maximum compression. Maternity girdles and corsets differ only in their design, and offer the same degree of compression to the abdomen. The former is designed to be pulled up, while the latter contains a closure like hooks that offer extra support. Corsets and girdles provide support to the pendulous abdomen after pregnancy and also help straighten the spine. They also provide support to the hips, legs, and back, and alleviate postpartum pain, especially among women who have undergone a C – section.
•  Bellybands – these garments are a milder version of girdles and corsets, and offer compression to the abdomen and hip. They cover a lesser area of the mid – section and are fit for use a few weeks after the delivery.
Using Maternity Shape Wear
Postpartum shape wear offers best results when used right from a few hours after delivery up to a few weeks. Depending on the design, the garment can be worn throughout the day or only for a few hours. For e.g., postpartum panties are fit for use during the day and night while corsets are best worn for a few hours, due to the extent of compression they offer. Compression tanks can be worn even during workout sessions as they are comfortable, while girdles may prove slightly stiff in this regard.
When buying postpartum shapewear, it is important to ensure proper so that it offers support and compression that is neither excessive nor too less. Certain garments are fit for use immediately after childbirth, like corsets and girdles, while some others like bellybands (www.ehow.com/about_5054849_belly-bands.html) are better used a few weeks after the delivery.
Postpartum compression garments are not a substitute to workouts. To get back into a healthy and fit body, a good diet and exercise are absolutely necessary. Also the compression offered by these garments does not lead to instantaneous results. While they do tuck in the abdomen by a few centimeters or inches when worn, continued and regular use is a must so that the uterus and abdomen can go back to their original shape in the shortest time possible.