Why Visiting an Ophthalmologist is Necessary for Eye Care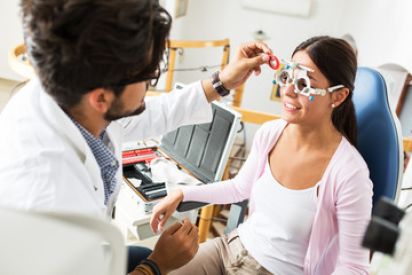 A medical doctor who specializes in eye care is an ophthalmologist. An ophthalmologist is trained to take complete care of the eyes including medical examinations and simple to complex surgeries. They also prescribe eyeglasses, contact lenses, and medicines.
Even if you don't have any eye or vision troubles, seeing an ophthalmologist from time to time can be helpful for you.
Here are some reasons to emphasize why visiting an ophthalmologist is necessary for your eye care.
For Vision Problems
When you have a vision problem, you can see an ophthalmologist or an optometrist. An optometrist is an eye care specialist who can perform eye exams and write the prescription for vision correction. But they cannot perform surgery or provide any specialized care.
If you have been having vision problems for the first time, it is better to see an ophthalmologist. An ophthalmologist can do a detailed examination of your eyes to find the reason behind your reduced vision. Vision problems can occur due to other health conditions also. So, it is important to know the cause behind it before you can have a prescription for glasses or contact lenses.
If you have moved to a new city or looking for a new eye doctor, do your research to find an experienced and qualified ophthalmologist. The same applies when you need to visit an eye doctor for the first time. Say, you need to find a new ophthalmologist in Colorado Springs or surrounding areas, look for a doctor who offers comprehensive services, has excellent credentials, and runs a good practice. One way to do this is to ask your friends or acquaintances for references. You can also conduct an online search and check the websites of leading ophthalmologists in your area or read their patient testimonials.
For Specialized Care
Ophthalmologists are specialists for all types of eye diseases. They perform surgeries for eye problems such as cataracts and glaucoma. If you have eye problems like double vision, blurriness, pain, red eyes, infections, peripheral vision problems, dry eyes, excessive tearing, or eyelid abnormalities; your ophthalmologist is the doctor who can provide you specialized care for these and other such eye problems. With age, macular degeneration is a common problem requiring specialized care.
Ophthalmologists also perform refractive surgeries such as PRK and LASIK. They also do different types of corneal transplants such as full and partial and other complicated procedures like pterygium surgery, and treatment for progressive diseases like keratoconus.
For Preventive Care
One important benefit of regular visits with your ophthalmologist is that you can identify a problem before it becomes severe. Many people don't realize they have cataracts until their vision begins to really cause them problems.
Diabetes can cause eye problems. For people with diabetes, it is important to see an ophthalmologist regularly to prevent any complications with their vision. The same applies to people who have hypertension. Due to high blood pressure, vessels that supply blood to the eyes can become damaged and cause retinopathy. When not treated in time, it can cause serious damage to your eyes including vision loss.
For people over the age of 40, it is vital to go for regular eye checkups for preventive care. For people over 40 who have vision problems, seeing your eye doctor once or twice a year is paramount. For children with vision troubles, seeing an ophthalmologist is vital to ensure they have the right eyeglass prescription and to keep track of any fluctuations in their eyesight.
For Urgent Care
If a foreign object gets inside the eyes such as dirt or a piece of glass; it can cause serious damage to your eyes. In such cases, an emergency visit to your eye doctor is paramount. Even if you flush your eye with water to remove the dirt, it is important to see a doctor to assess the damage, if any.
Children often get foreign objects in their eyes while playing. Even if your child has no vision problems, you need to have a relationship with an ophthalmologist in your city. So, you can look for a doctor in a city near you or nearby area. For example, you can see a reputed ophthalmologist even if you live in a nearby suburb.
Your ophthalmologist can help you keep your eyes in perfect working order at all stages of your life.