Importance of Wearing A Postpartum Girdle After A C- Section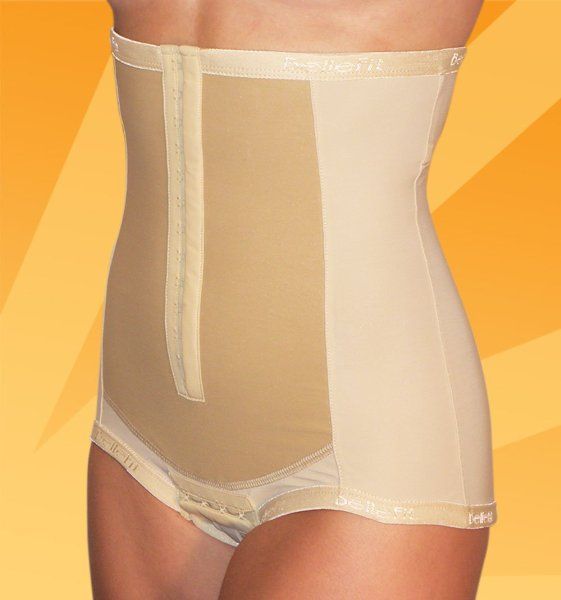 Gaining weight during pregnancy is normal but after pregnancy it is very important to get back into shape. There are various ways and means to do so.
Decreasing Caloric Intake:
Reducing your food intake does help in losing weight but it is not advisable for a nursing mother.The body requires extra food to produce milk needed to feed the baby. Decreasing the food intake would result in the reduction of milk produce and that would definitely harm the baby.
Exercise:
Exercise is very important for a young mother, but if you have had a C-Section, it is not possible to go in for vigorous exercise as you are already faced with back pain, scar and weak abdominal muscles. Using of Gym equipment is also not recommended.
Weight loss supplements:
These should be a big No for the young nursing mothers as they can have adverse effects on your health and the baby.
Women's body is supposed to come back to its Pre-pregnancy shape on its own, but it never happens. During Pregnancy a number of hormones like estrogen, relaxin and progesterone are secreted for the growth of the baby and for easy childbirth. Their function is to loosen the pelvic muscles and widen the pelvis for childbirth. These hormones remain in the body for sometime, thus hindering your body from coming back into its original form.
One of the surest and the best way to regain your shape is by using postpartum girdle C-section. If you want firm support after your baby is born by C-Section, a good maternity girdle can do wonders for you.
Advantages of a postpartum girdle:
•  It provides support, compression in your abdomen area and backside
•  They are helpful for sore backs
•  It helps your spine to recover and straighten
•  It can help your uterus return to its usual position
•  It is a great way to make you look fit and in-shape
•  It also helps you to reduce further weight gain by compressing fatty cells
•  It can prevent lymphatic damage and reduces swelling
Types of Postpartum Girdles:
1)  One of the most popular Postpartum Girdle available in the market which is medically cleared is the one that effectively compresses your abdomen. It is made of microporous fabric that does not hold sweat. They are of various styles for you to choose from. A pull one is easy to operate, a corset type, a girdle with a zipper and a dual girdle. They all have the same effect and depend on the individual. The zipper, snaps are of high quality. They are easy to hide under your normal clothes. The users claim that they look around 20 pounds lighter while wearing these girdles.
2) An another type of Postpartum Girdle which is an invisible girdle allows you to wear strapless dresses, low rise and hip hugger jeans without showing itself. It also helps in straightening and re-aligning your spine. It is made of cotton and latex and are available in black and nude. It is very durable.
3) The 3 in 1 breathable elastic Postpartum Girdle is made of porous fabric that can be worn all day. It is very good at providing excellent back and spine support if you have had a C-Section. As the name suggests this Postpartum girdle comes in three separate adjustable pieces. One piece is for binding the tummy, the second piece is for the abdomen and the third piece is for the hips. These three pieces have to be adjusted, which may appear difficult for you in the beginning but once you learn the art it becomes simple and give you a lot of benefit.
Along with the above there are many types of girdles available in the market and you can go in for a particular one according to your own specific need.
Wearing postpartum girdle and corsets after pregnancy not only makes you look slimmer but also offers support to multiple organs. The utility of this girdle does not require any further emphasis and is a must buy for you if you are going in for a C-Section.