How Does Cataract Surgery Improve Vision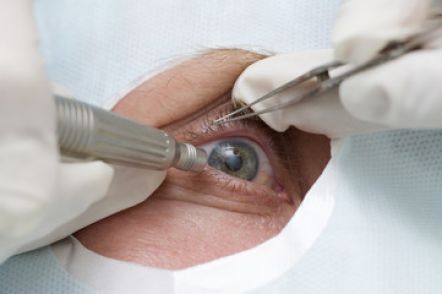 Vision problem is something common that happens in old age, and you can find many people having a cataract at this age. Cataract is primarily a condition when the old aged person is not able to see properly; it affects the lens of the eyes, and the images appear foggy and blurred. Though cataract is a major problem that is witnessed by a huge number of old aged people but it has a permanent cure and can be overcome by undergoing cataract surgery. Cataract problem may bring your spirits down, but a proper cataract surgery in Colorado Springs can help patients to lead a happy and quality life.
A patient suffering from cataract should get it treated immediately instead of waiting until the last moment and hence making this issue a complicated case to be rectified.
Though a cataract surgery is one of the most common surgeries that take place in the medical world but the patient should opt for this at its earliest to avoid any further progressive vision loss.
Symptoms of Cataract
As it is said earlier, it is difficult to trace signs of cataract at an early stage, but it shows up slowly. Here are a few symptoms that you can detect and opt for a proper eye check up to find out any such ailment.
1. The hazy appearance of images
2. Problems in night vision
3. Inability to understand the sharpness of colors
4. The appearance of starbursts and halos when subjected to a bright lighted atmosphere
If you are facing any such symptoms, then it is high time that you get a proper eye check-up.
Cataract surgeries are one of the most common operations in the United States. Many patients opt for this surgery to fight against this eye problem. Cataract surgery is done by implanting an artificial lens which helps in giving a clear vision to the patients. If the patient is suffering a cataract problem, then it is always advisable to undergo a cataract surgery as it helps in enhancing the vision and also gives added on benefits to the patient. Here are few benefits of undergoing a cataract surgery if you have hailed a cataract problem-
1. Cataract surgery helps in increasing the lifespan
A person who undergoes a cataract surgery is more prone to live a longer life in comparison to a person who does not undergo a cataract surgery despite suffering from a cataract vision problem. The percentage count goes up to a reduced risk of 40% of the mortality rate in comparison to a patient who does not undertake the cataract surgery procedure.
2. Enhanced lifestyle
Cataract problem not only just bring haziness and inability of proper vision but has other problems associated with it such as depression and anxiety. This may affect the person very severely and the person may also lose the hope of living. But by undergoing cataract surgery not only the person gains back his/her vision but is also able to lead a better quality life. Life can get back to normal, and you can enjoy the activities that you used to enjoy in regular font.
3. Prevents from falls
We all know vision is one of the most significant things that you need to lead a practical life. Falling in the trap of a cataract problem may result in loss of proper vision and eyesight and getting it treated at the right time may help you to stay away from other mishaps such as fractures and falls. Improper eyesight may always keep you prone to dangers such as falls, and in old age it is almost impossible to mend the bones in perfect ways. So getting an appropriate surgery of cataract by visiting an Eye Doctor in Colorado Springs can probably be the primary step to get cure from this ailment.
Cataract Surgery- A Mandatory Aspect
There are no initial symptoms of a cataract, but it may impact the lifestyle of a person at a later stage causing hindrance to the basic and everyday activities of the person who has attained this cataract problem. It may also lead to permanent vision loss if not treated at the right time. So it is better to visit an eye doctor in Colorado Springs and consult them to proceeding with cataract surgery to get your life back to the regular platform gaining back your vision.